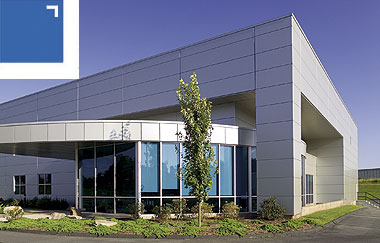 North America is an exciting part of BlueScope Steel's world. While recent strong steel prices have favoured our upstream businesses, we are working hard to enhance our downstream operations, positioning our Company to become this region's leading steel building solutions business.
Our North America portfolio consists of four businesses: North Star BlueScope Steel operates a mini-mill at Delta, Ohio in which we hold a 50% share; Butler Buildings is the country's leading designer and producer of pre-engineered steel building systems (PEBs); Vistawall manufactures aluminium and glass architectural products; Castrip LLC is a joint venture company commercialising new steelmaking technology.
In addition, our International Markets business brings Bluescope Steel products from Australia, New Zealand and elsewhere to our customers in North America.
In 2004/05, North Star BlueScope Steel delivered a record result, due to strong international steel prices and operational excellence. Our newly acquired Butler Buildings business is being successfully transformed and integrated into the BlueScope Steel family. Our Vistawall business is robust, and growing well without the capital constraints of previous ownership, while Castrip LLC is providing exciting glimpses of the future.
WE ARE TRANSFORMING OUR NORTH AMERICA BUSINESSES, EXTENDING OUR VALUE CHAIN AND CREATING THE REGION'S LEADING STEEL BUILDING SOLUTIONS OPERATION.
NORTH STAR BLUESCOPE STEEL
As with our other steelmaking businesses, North Star BlueScope Steel enjoyed an excellent year in 2004/05. The business achieved a substantial increase in EBIT, contributing $194 million to BlueScope Steel's results. Higher domestic prices for steel in the United States, combined with excellent operational performance, enabled North Star BlueScope Steel to achieve its highest ever EBIT result, despite rises in scrap feedstock costs.
Our partner in this venture is North Star Steel, a subsidiary of Cargill Inc. The combined experience and efforts of the partners, together with state-of-the-art technology, has made this business an industry leader. In November 2004, North Star BlueScope Steel LLC made its final debt repayment, and is now debt-free. The business has since begun paying dividends to owners. In 2004/05, the business set a number of records. Production was 1.824 million metric tonnes, exceeding forecasts, and up from the previous record of 1.710 million metric tonnes in 2003/04. This was due to increased slab caster throughput, improvements to the Electric Arc Furnaces and rolling mill, and overall operational strength.
Steel industry customers again voted this business 'number one flat rolled steel supplier in North America' in the prestigious Jacobson survey. North Star BlueScope Steel beat 30 other steel mills in areas such as quality, service, on-time delivery and overall satisfaction.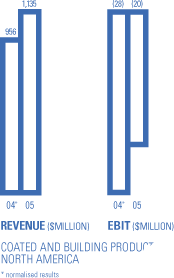 BUTLER BUILDINGS
Since acquiring Butler Manufacturing Company in April 2004, we have implemented a fast-paced and broad ranging transformation program to realise the latent value of this iconic North American business. Butler Buildings is the industry's leading brand, with the strongest distribution network. By combining the best of Butler with BlueScope Steel, we aim to create a distinctive steel-based building solutions business in North America. We are making good progress toward this goal.
Butler Buildings supplies PEBs for many applications, including warehouses, manufacturing facilities, rural buildings, offices, retail, schools, aircraft hangars and stadiums. It is market leader in non-residential PEBs in the United States, Canada and Mexico, and is supported by a sales network of 1,100 Butler Builders.
During 2004/05, we undertook a program to strengthen Butler Buildings. This included closure of the high-cost Galesburg facility, numerous cost reduction initiatives, and management structure and process improvements.
We also introduced steel feedstock from North Star BlueScope Steel and linked steel supply from our Australasian operations to Butler Buildings, via our longstanding North American customers. Our review of non-essential assets continued with the divestment of the disused Alabama facility in May, for US$1.3 million, while the sale of the Galesburg facility is progressing.
Butler Buildings improved its performance in 2004/05, despite inconsistent market demand, the previous state of the business, the scale and speed of our transformation program, and high and volatile prices for steel and other raw materials. Shipments were steady at 186,000 tons - the same as the previous year.
Butler Buildings has excellent design and technical capabilities, strong, well-recognised brands in a high-value market, and is providing support for global downstream growth initiatives such as our China business. We are reinvigorating Butler's licensee relationships, and believe this business holds great potential as a strong platform for growth in North America.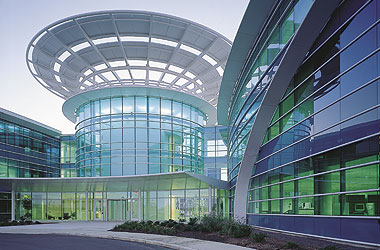 VISTAWALL
2004/05 was a year of solid performance for Vistawall, which manufactures and markets extruded aluminium store-fronts, curtain walls, doors, windows and skylights. Aluminium despatches were up 12% (by weight) on the previous year and the business gained an estimated 2% market share. Profitability was strong, in line with expectations and despite rising aluminium feed costs.
Following our acquisition of Vistawall, an independent review confirmed our expectations of this business. It is strong in operational performance, sales capability, and product range, while service levels and growth potential are high.
We have invested to increase our sales and marketing capability, while our expanded range of service centres will boost our market presence in sales and engineering. During the year, we launched a number of new products, including Solar Eclipse sunshades, Reliance Wall, and Terra Swing terrace doors. We also approved a major expansion of our Tennessee plant to double our extrusion capacity - this will be commissioned on schedule in late 2005 calendar year.
CASTRIP
Castrip LLC is a joint venture company developing a revolutionary strip casting process that allows direct production of thin, hot rolled coil from molten steel, bypassing slab casting, hot rolling, and potentially cold rolling. This technology was pioneered at Port Kembla Steelworks. Our partners in Castrip LLC are the US Steel company, Nucor, and Japan's IHI Heavy Industries.
The world's first commercial Castrip® facility operates at Nucor's Crawfordsville, Indiana plant, allowing Castrip® material to be introduced to the market. In 2004/05, the Castrip® process moved closer to large-scale production with Nucor announcing its intention to build more Castrip® facilities. A number of steelmakers have expressed interest in acquiring a Castrip® licence, and negotiations are continuing.