ASIA COATED AND BUILDING PRODUCTS
The world's economic centre of gravity continued its shift toward Asia in 2004/05. We are extremely well positioned in this exciting region, and have continued investing in our Coated and Building Products Asia business, growing our painting, metallic coating, rollforming and pre-engineered buildings (PEB) operations across Asia.
BlueScope Steel is Asia's leading PEB manufacturer, and our rollforming, painting and metallic coating network is the region's most extensive. We are a leading Australian investor in Asia, and in 2004/05 we achieved a major milestone with 40 years experience 'on the ground' in the region. Our Asian business unit consists of metallic coating and painting operations in Thailand, Indonesia and Malaysia; BlueScope Buildings (formerly Butler and Lysaght) facilities in China; and BlueScope Lysaght operations in eight other countries in Asia.
THROUGH OUR ASIA BUSINESSES, WE ARE ALIGNING OUR GROWTH WITH SOME OF THE WORLD'S MOST VIGOROUS ECONOMIES.
In the 2004/05 financial year we continued expanding our business platform to further capitalise on Asia's economic growth. We have a number of exciting new projects in the region. These include an additional metallic coating line in Thailand, and metallic coating and painting facilities in Vietnam and China, which will double our capacity to approximately one million tonnes. We have also approved major projects in China, Thailand and India to manufacture the LYSAGHT® and BUTLER® range of building solutions. In total, BlueScope Steel has now committed over $710 million to investments in Asia in the last two years.
For Coated and Building Products Asia, 2004/05 saw a pause in the continuous profit growth of the preceding five years. This is a result of increased business development and pre-production costs, adverse foreign exchange movements and profit from asset sales impacting on the previous year's results.
EBIT for the year was $82 million, down from $104 million in 2003/04. Higher steel purchase prices were offset by increased selling prices.
In 2004/05, sales revenue was $1.051 billion, up from $699 million the previous year, greatly assisted by the full-year contribution and higher selling prices of BUTLER® PEBs. The full year effect of our Butler Manufacturing acquisition was significant, with the Butler business in China contributing EBIT of $16 million. Volumes increased year on year predominantly due to Butler. Growth in the coating lines was constrained by capacity.
Our investment strategy recognises the strong long-term growth potential of Asia's economies. We are creating new markets across Asia for premium steel building products such as Clean COLORBOND® steel and ZINCALUME® steel, and advanced solutions such as LYSAGHT® building products and BUTLER® PEBs.
Our approach to growing local markets requires continued investment to meet demand for steel products. We expect to reap benefits as our new downstream operations begin to generate earnings from the rapidly growing Asian construction market over the coming few years.
Our businesses in Asia delivered many highlights in 2004/05. The BlueScope Steel China team secured the contract to supply steel building products for the world's tallest building. We executed a successful Asia-wide launch of new, improved Clean COLORBOND® steel, and we enhanced our reputation for quality through an alliance with Nippon Steel Corporation for the marketing of corrosion-resistant SuperDyma™ steel. In addition, we have continued to implement an Enterprise Resource Planning (ERP) platform for our businesses in Asia. Malaysia and Indonesia are operating under this system, while ERP work continued in China and Vietnam.
CHINA
BlueScope Steel is well positioned to grow in the expanding Chinese steel building products and pre-engineered buildings markets. We began in-country operations in China in 1995, and now run six manufacturing plants across the country, as well as one in Taiwan, with three more facilities being developed.
In 2004/05, building construction continued on our $280 million metallic coating and painting facility at Suzhou, 80 km west of Shanghai. An impressive facility is taking shape, and commissioning is planned for the middle of 2006 calendar year. During the year, we achieved an important step with the successful launch of our ZINCALUME® steel brand into China.
We also merged our Butler and Lysaght operations, with the integrated BlueScope Buildings China business managed by one team. Accordingly, we approved our Company's first combined BUTLER® PEB-LYSAGHT® facility. The plant, located in Guangzhou, will cost $45 million. Site works are progressing, registrations and approvals are complete, and the project is on schedule for completion by the middle of 2006 calendar year.
During the year, we expanded our BlueScope Buildings Tianjin site into a full-service PEB operation, investing in a new beam fabricating line with a capacity of 12,000 tonnes per annum. The $8 million Tianjin project was completed on time and under budget. To meet the ever-increasing demand for sophisticated building products, we approved a $16 million expansion of our Langfang facility to produce architectural and sandwich panels for premium facade applications.
In 2004/05 our China team successfully bid for a Shanghai World Finance Center contract, calling for supply of 220,000 square metres of LYSAGHT 3W-DEK. The structural decking product will form part of the flooring system in what will become the world's tallest building. This 101-storey Shanghai project is yet another showcase for BlueScope Steel in China, and enhances our reputation for steel building products of the highest quality.
During the year, the Chinese government tightened funding available to local companies, and this policy altered our BlueScope Buildings China customer base. Sales to large Chinese companies have fallen, but we have increased sales to foreign-owned direct investors.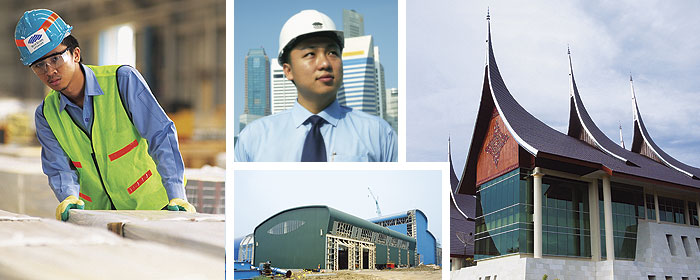 INDIA
Alongside China, India is emerging as a major economic powerhouse, with a consequent increase in building and construction sector demand. BlueScope Steel has been creating markets for COLORBOND® and ZINCALUME® steels in India since 1998, and in 2004/05 we announced an investment of $100 million in three new manufacturing facilities to meet growing demand. This represents our largest-ever initial greenfield downstream investment in any country. These new facilities are at New Delhi in the north, Pune in the west, and Chennai in the south.
The Pune facility, which will manufacture BUTLER® PEBs, and include a Design Centre, is due for start-up in the second half of the 2006 calendar year. The New Delhi and Chennai plants will provide Lysaght rollforming services, and offer a full range of LYSAGHT® products. They will commence operations in mid-2007 calendar year. A network of 18 new sales offices will help grow our reach in the Indian building and construction markets.
We are also examining the feasibility of a joint venture with India's respected Tata Steel, in a metallic coating and painting operation. We expect discussions with Tata Steel to be completed in early 2006 calendar year. The JV, if formed, would also include our existing downstream investments.
INDONESIA
PT BlueScope Steel Indonesia is the country's only local manufacturer of zinc/aluminium metallic coated and pre-painted steel. We market a number of Indonesia-only brands, including PELANGI® steel, ABADI® steel, and GEMILANG® steel. BlueScope Lysaght Indonesia services growing building and construction markets through facilities at Cibitung, Medan and Surabaya.
Local demand was strong throughout the year. Enquiries related to the reconstruction of Aceh have been high, and orders have been secured for thousands of steel houses. In 2004/05, our metallic coating and painting facility at Cilegon continued to operate at full capacity, producing record tonnages of metallic coated and painted steel.
Our new Lysaght factory and coating line warehouse represents the first use of our own PEB design for a BlueScope Steel facility. The project was completed within six months of breaking ground, and boosts Lysaght's presence in the Indonesian building products market. In April, BlueScope Steel entered into an arrangement with leading Indonesian company PT Krakatau Steel, under which they are supplied with steel slab from Port Kembla Steelworks. The steel slab processed by Krakatau Steel is then supplied as coil to some of our Asian facilities. The arrangement potentially contributes $100 million to the vital Australia-Indonesia trade relationship.
MALAYSIA
BlueScope Steel Malaysia, a joint venture with PNB Equity Resource Corporation Sdn Bhd, is the country's only local manufacturer of both ZINCALUME® steel and Clean COLORBOND® steel. The business supplies markets in Malaysia, Singapore, Brunei and Sri Lanka.
We operate a metallic coating and painting facility at Kapar, Selangor, and three BlueScope Lysaght rollforming plants in Shah Alam, Kota Kinabalu and Bintulu. In addition, BlueScope Lysaght operates in Singapore and Brunei. Production levels of metallic coated steel were in line with last year, with a portion going to the export market. The business achieved record production of painted steel. Our Malaysian operation is currently a major supplier of feedstock to our China businesses.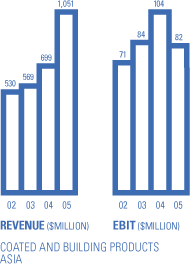 THAILAND
BlueScope Steel (Thailand) Limited is a joint venture with Thai investor Loxley Public Company Limited. We operate a cold rolling, metallic coating and painting facility at Map Ta Phut in Rayong province, manufacturing ZINCALUME® steel, Clean COLORBOND® steel and TRUZINC® zinc coated steel. BlueScope Lysaght Thailand operates rollforming facilities at Bangkok, Khon Kaen and Rayong. In 2004/05, strong demand for premium products such as ZINCALUME® steel, Clean COLORBOND® steel and Ultima Hi Rib® sheeting resulted in an increase in total domestic volumes over the previous year.
A second metallic coating line in Rayong costing $80 million has commenced operations. This expanded plant has a total metal coating capacity of 385,000 tonnes per annum, some of which will be used to initially seed markets in Vietnam and China. Our cold rolling mill capacity is also being ramped up from 260,000 to 350,000 tonnes per year to better meet the requirements of two metallic coating lines.
In June 2005, we announced an initial $18 million investment in a PEB manufacturing facility to be built at Rayong, adjacent to our metallic coating and painting operation. This will be Thailand's first dedicated PEB facility, and will enhance our ability to deliver high value steel solutions to Thailand's building and construction markets, and to markets in neighbouring countries. It is scheduled for commissioning during the third quarter of calendar year 2006. BlueScope Steel is Australia's single largest investor in Thailand, with more than $280 million invested (BlueScope Steel share) over the past eight years.
VIETNAM
BlueScope Lysaght has rollforming facilities in Hanoi and Ho Chi Minh City. The business has been operating in Vietnam since 1993. The resultant increase in demand for our premium steel building products led to last year's approval of a $160 million metallic coating and painting facility at Ba Ria, near Ho Chi Minh City.
Building construction on this facility is complete, equipment installation is on schedule, and we expect to commence operating early in 2006 calendar year. Our production capacity will ultimately be 125,000 tonnes of metallic coated, and 50,000 tonnes of painted steel products per year.
During the year, BlueScope Lysaght Vietnam commissioned and launched SMARTRUSS™ into the market place. Investment is also being made in a steel tile manufacturing facility to commence production in the first quarter of 2006.