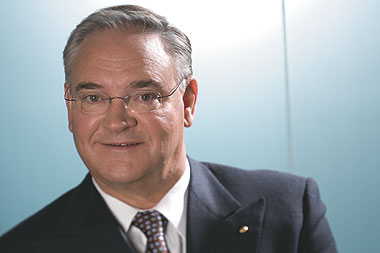 PERFORMANCE
I am very pleased to report that 2004/05 has been another outstanding year for BlueScope Steel. Our team's performance over the three years since public listing has been among the best on the Australian Stock Exchange ASX 100 for all industries.
When BlueScope Steel listed three years ago, we committed to operate by the guiding principles of Our Bond and to reward our shareholders. We have met those commitments.
In the past year, revenue has grown by 38% to a record $7.98 billion, demonstrating the strength of the relationships we have built with existing customers, and with new ones.
Net profit after tax was up 72% to $1.007 billion, a reflection of the strength of global steel markets and the performance of BlueScope Steel's people. We are proud to be one of a select group of ASX-listed companies to have achieved a profit of over $1 billion in 2004/05. Earnings per share increased by 77% to $1.37 per share, compared to 78 cents last year.
SHAREHOLDERS
During the year we continued to reward our shareholders. We declared a final dividend of 24 cents per share and a special dividend of 20 cents per share, both fully franked.
For the year, ordinary and special dividends totalled 62 cents per share, compared with 40 cents per share last year. All were fully franked. Return on invested capital increased to 25.4%, up from last year's strong result of 18.5%, and total shareholder return for the year was 30%, paid and declared in respect to 2004/05. In the last three years, $1.58 billion has been invested in share buybacks or dividends, which demonstrates our focus on returns to shareholders.
EMPLOYEES AND COMMUNITIES
BlueScope Steel is committed to providing safe workplaces. The involvement in safety audits by 78% of our 17,500 employees worldwide is evidence of their commitment.
Our Bond emphasises community respect and involvement. In 2004/05 this was underscored by donations of $2.2 million to community causes. This included a major tsunami relief initiative totalling over $1.26 million, with a large proportion donated directly by our employees. BlueScope Steel undertook many other community projects across Asia, New Zealand and the United States, as well as Australia.
It is interesting to reflect on how the $8 billion dollars of revenue we generated in 2004/05 was distributed. $1.3 billion was paid in wages and salaries. $340 million was paid to shareholders as dividends, $330 million was used for share buybacks, $2.1 billion was spent on suppliers, services and utilities, $310 million was paid in income tax, and $660 million was re-invested in our Company's growth projects, with a view to our future prosperity.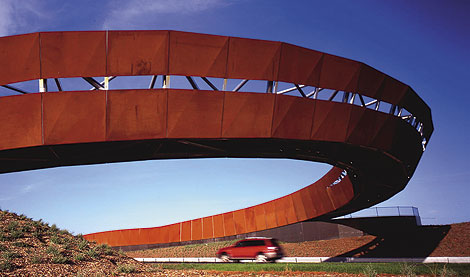 CAPITAL MANAGEMENT
We are proud of BlueScope Steel's capital management record. Since public listing, our total return to shareholders, including ordinary and special dividends, and share buybacks to date is $2.09 per share - representing a 77% pay out ratio. A great advantage of our public listing has been the ability to re-invest in the business for future profitable growth. Over the past three years, we have invested more than $1.5 billion. This includes $724 million in 2004/05, with approximately $700 million anticipated in the 2005/06 financial year. By comparison, in the four years prior to listing, the average amount of capital invested each year was $120 million.
Your Directors believe that BlueScope Steel has continued to meet the short and long term interests of shareholders with an appropriate balance between dividends, share buybacks and long-term growth investments. This is reflected in the fact that, in the period from our public listing on July 15 2002 to June 30 2005, our Total Shareholder Return (growth in share price plus dividends) has been among the highest of any ASX 100 company.
STRATEGY
We are implementing a strategy that will make BlueScope Steel a unique steel company: one that embodies excellence in steelmaking, and also delivers a broad range of innovative, valued steel products and solutions.
So, with three years of outstanding results, and a long-term investment strategy that will help buffer us against steel price volatility, we are well on the way to establishing our credentials. We hope you now regard BlueScope Steel as a core holding in your share portfolio.
GOVERNANCE
BlueScope Steel complies with the ASX principles of Good Corporate Governance and Best Practice Recommendations. I believe the leadership shown by our Board of Directors, the values and standards that have been set, and the strategic guidance the Board has provided are of a high order.
We will continue to reward shareholders. In keeping with the principles of Our Bond, we will also continue to care for our employees, value our relationships with customers, and respect the communities in which we do business. I believe our future success will reflect our Company's adherence to these ideals.
I would like to thank our 17,500 employees for their performance, Managing Director and CEO Kirby Adams and his team for their strong leadership, and my Board colleagues for their contribution.
GRAHAM KRAEHE
AO,
CHAIRMAN